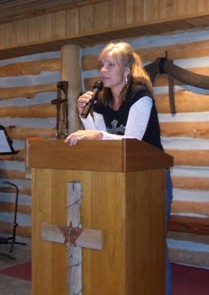 'Out of the same mouth proceed blessing and cursing. My brethren, these things ought not to be so' (James 3:10). 
This chapter in James goes on to say that a spring can't yield both salt water and fresh water, that a fig tree can't bear olives, and a that a grapevine can't bear figs. It is abundantly clear from these verses, and many others, that there is NO place formixture in the life of a believer. Mixture implies a combination of two or more different elements —- for instance, I want God in my life for the benefits that may bring, but I also want to hold tightly onto my own worldly, fleshly desires. If something is not a mixture, it is said to be pure, and Jesus says that it is only the pure in heart who will see God. Jesus also says that if anyone desires to come after Him, it requires that we deny ourselves (wordly, fleshly desires) and take up our cross daily, and follow Him. Does this not mean that, by the power and influence of the Holy Spirit, we live by His precepts and walk in His ways? And if we are born again from above and have His Spririt dwelling in us, is not living by His precepts and walking in His ways the fervent desire of our hearts?  Do we not now hate sin and love righteousness? How, How, How can people have the idea that they can dearly love the world and think they are loving God at the same time when the Bible emphatically states that friendship with the world is enmity with God —- whoever desires to be a friend of the world makes himself an ENEMY of God. It is simply mind-boggling the number of people I encounter who are quite content with embracing the works of the flesh (adultery, fornication, hatred, drunkenness, selfish ambitions, etc.) and all the while boldly proclaiming the name of Jesus and convinced they are on the narrow path that leads to life!!! The bigger issue is the witness (or lack thereof) this is to those who are observing the lives of "Christians" who are less moral, more selfish, less generous, and more hateful than the "non-Christians". THESE THINGS OUGHT NOT TO BE SO! "And those who are Christ's have crucified the flesh with its passions and desires. If we live in the Spirit, let us also walk in the Spirit" (Galatians 5:24-25). 
Jesus says that the way we will really know people is by the fruit that is seen in their lives. To me, that is pretty clear– It's either the fruit of the Spirit or the fruit of the flesh. So we must ask ourselves…..which fruit does my life reflect? If we are identifying ourselves with the name of Jesus and professing Christianity, but our lives are confessing something different, we fit in the category of those who "profess to know God but in works they deny Him" (Titus 1:16). It matters not how many scriptures you can quote, how many praise and worship songs you sing, how many church services you attend, how many messages you preach, or how many people you witness to —– if your whole heart, will, and desire has not turned to God for Him to begin purifying your soul, if you still love the world and the lusts thereof, if your Christianity is simply an outward reformation and not an inward transformation, you are still on the broad path that leads to destruction. If living wholly for God and His will seems an impossibility to you, ask Him to give you a revelation of His love. He never asks anything of us that He does not empower us to do. Those things we want to hold on to are of no benefit to us if they do not arise from His will. What is more desireable? For who could refuse obedience to a will that is so kind and so good?